The Wild, the Dark, and the Invitation
Discover what's waiting for you this Advent
I moved my sleep schedule on my iPhone back an entire hour shortly after the "fall back" time change which repositioned which hours we call daylight. Since time is a construct, there is no rule that means I have to keep doing things at the same number on the clock and moving everything an hour earlier lets me avoid that terrible jetlagged feeling I often get this time of year. 
It was mostly successful. I called it "following the light," something I naturally do when backpacking anyway. Hours on the trail don't matter as much as when the sun is coming up and when it's going down. The numbers on the clock can help us track how much time until each of these events, but otherwise they are meaningless. 
Off the trail there are meetings and appointments and other things that insist that those little numbers on the clock do indeed mean something and must be observed. I don't have power to change that, but I can change when I wake up and when I go to bed. 
Following the light helps me through the shortened daylight hours, but I've also learned to appreciate the lengthened dark. It reminds me of my own need for seasons of rest and to turn my focus inward and ask, "What is germinating?" 
Often I see both the themes of darkness and wilderness being used negatively in spiritual and theological conversations. If someone says they are experiencing a time of darkness, we don't assume they're happy about it. If they say they are traveling through the wilderness, we infer they want to leave the season they are in. 
And of course there are plenty of Biblical texts and writings from theologians and early church folk alike that use darkness as a metaphor for things unpleasant even if there are things that can be learned within it. 
But perhaps no metaphor is as misused as the one for wilderness. I've recently seen writers I follow using this negatively, and talking about how to help each other get through the wilderness. Get through where? Back to "civilization"? 
I find this odd especially as many if not most transformative moments in Scripture happen in the wilderness. Sure, the people of Israel end up wandering there for forty extra years because God deemed them ready to not enter the "promised land." And I can see how one would think this was a punishment. However, in the wilderness, God provided for their every need. With that in mind, maybe it's more accurate to say that sending them back into the wilderness was to remind them they needed to trust God before they could be entrusted with land to call "theirs" otherwise they would misuse the gift because they hadn't learned to trust. 
Moses climbs a mountain to hear from God: Elijah does as well. Jesus goes out into the wilderness for both temptation and revelation. In the wilderness, he finds rest and care. 
What if our reading of the wilderness has been very wrong all along? What if our thinking of the wilderness as negative is actually a symptom of our disconnection from the natural world? Often we humans think of ourselves as separate from nature, over nature, or even in charge of nature. All of these views keep us from seeing the truth: we are a part of nature, irrevocably connected to nature, and the natural world is the context for everything. 
I see the darkness and the wilderness as an invitation: an invitation to a deeper knowing of God, ourselves, and our world. I see them as an invitation to reclaim the wild within us that has been "civilized" nearly to oblivion. I see them as an invitation to discover what will germinate if we learn that darkness rather than a place to be feared is where all life begins. 
Join me each Sunday in Advent as we explore The Wild, the Dark, and the Invitation.
New subscribers get 3 months upgraded subscription for free!
---
Reclaiming Your Wild
Visit this post to learn more about hiking and backpacking retreats where we reconnect with the wild in ourselves and learn to read the Book of Nature. Coming Fall of 2023.
If you are do not want notifications to this new section, unsubscribe from just this section by following the instructions in this article.
Or click on the images below to view screenshots of how to manage your subscriptions in a mobile device: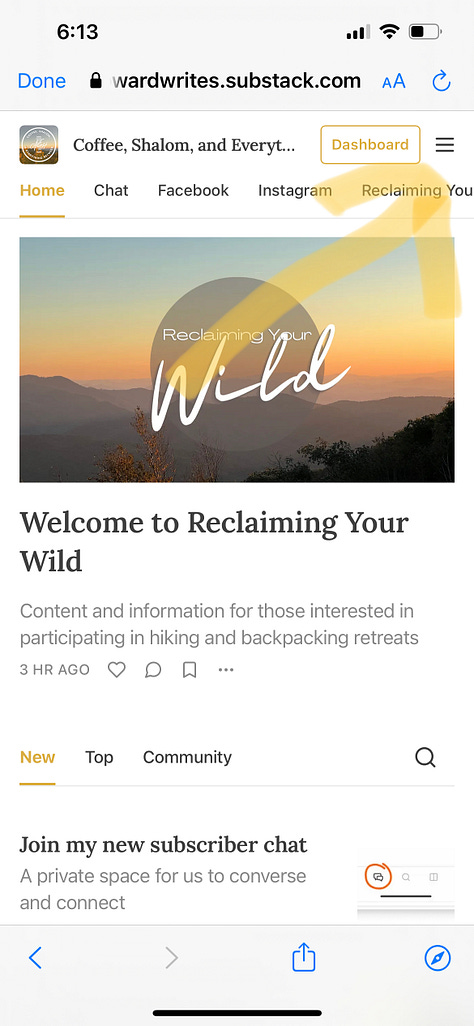 ---
Substack now has chat in the app!
In an effort to be a more robust media ecosystem, Substack has created an app that now lets you see all your subscriptions in a feed, as well as chat with your favorite authors and other subscribers who read them! Head over to your app store, or click here and download that for a more complete experience.
---
Return of the Poisoned Bible Project
I don't know about you, but I have a tendency to think I can do more than I can actually do. Far from the initial monthly installments I envisioned, I have only managed to dig into three of the many thorny texts you all submitted to the survey (which is still open so keep it up!).
I suppose writing a whole book in there is a possible excuse, but I do want to get better at both regular thoughts here for the newsletter and more regular PBP episodes as well. And so I began the way I often do, not with examining the texts, no, but with designing a spiffy new logo! It shows my determination, I think ;-)
So I'm pleased to announce PBP Episode 4: Spare the Rod: Authoritarianism and Childism (What we get wrong about proof texting those "discipline" verses) will be coming January 8th, 2023. I know that's a ways out still, but as I'm returning to my Advent series tradition, I needed to push it beyond those articles.
Also! All past and future episodes can be found here in the new section I created if you want to browse them (there is one I couldn't move because evidently when the audio and text are together, they get stuck to the main channel only, but I've created internal links in the articles so navigation is still fairly seamless).
---
Connect
Anna Elisabeth Howard writes highly caffeinated takes on shalom as a lens for everything from her front porch in Hendersonville, TN where she lives with her husband and two sons. She is a community organizer and movement chaplain with a background in youth and family ministry and is a graduate of Fuller Theological Seminary. An avid hiker and backpacker, many thoughts start somewhere in the middle of the woods, or under a waterfall. Her latest book is Inward Apocalypse: Uncovering a Faith for the Common Good.
Buy Inward Apocalypse: Amazon | Independent Booksellers
Social media: Facebook | Instagram | Twitter
Join the subscriber chat! If you already have the app, just go to the new chat section, if not, download the app here.
Read recent articles: Earth & Altar | Red Letter Christians |  Medium
I'm one of the facilitators of Freedom Road's Global Writers' Group. If you've been looking for a community of writers to boost you to the next step of your writing goals—wherever you are in that process—join us!
Join the community, support the writing: