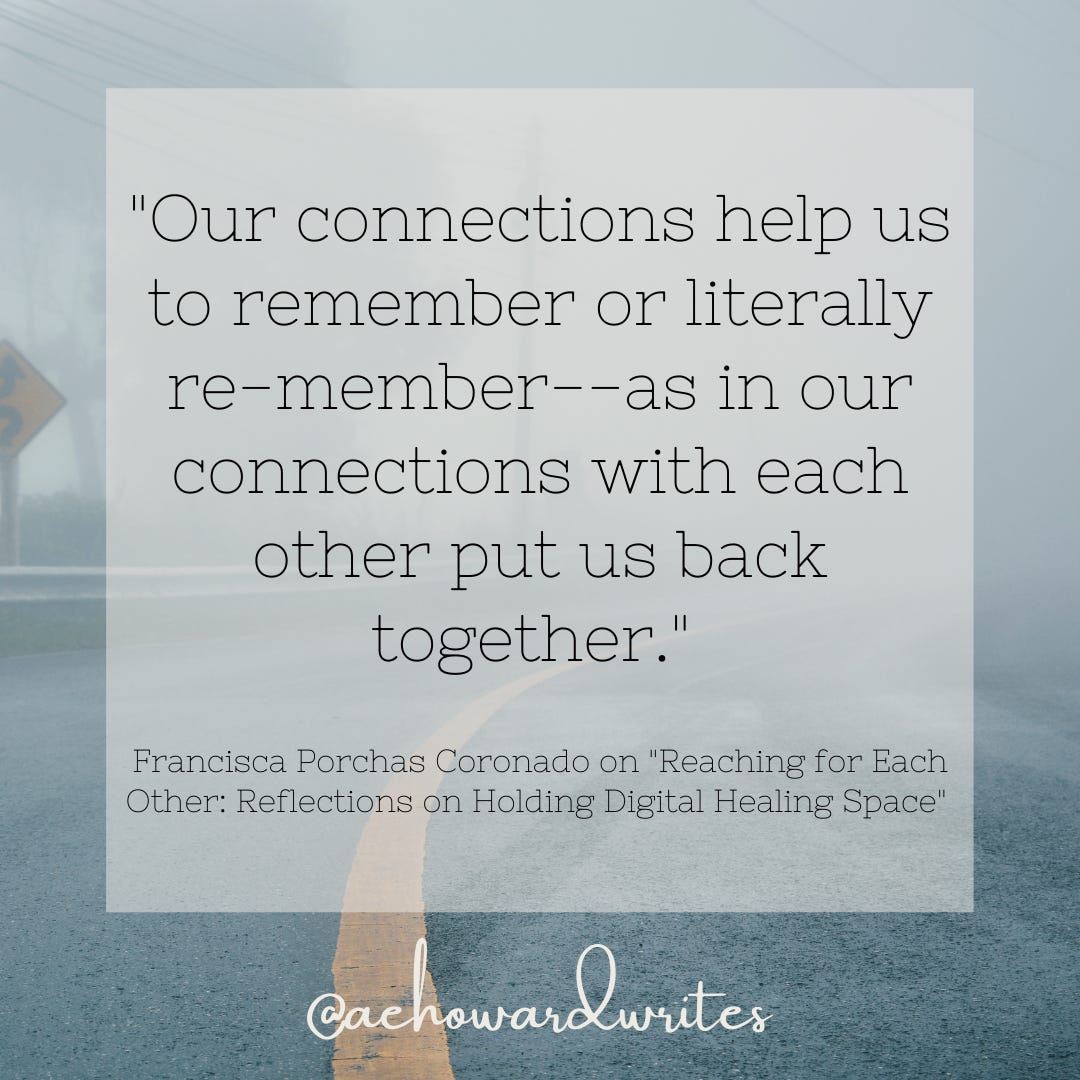 I don't know what it is about this week but it's just felt heavy all the way through. Like a weight on my chest that sought to push me out of myself. A tension that built and built until it had to erupt to find a way out--an eruption that left me in tears on the floor between the chronic pain in my back that had been building all day and the pressure of the week. I still hesitate to write like this because I want to put up a front and tell you it's fine. But it's not fine. If you talked to me any time in the last four weeks and I told you I wasn't feeling well, that I was flaring, well, it's still the same flare. Longer this time than average, but not unheard of either. And writing like this still feels like complaining, and yet, it's just reality. If I told you I was fine, it wouldn't be the case.
I sat in on a webinar yesterday from Faith Matters Network which was a moderated discussion on holding digital healing space with Lauren Cunningham, leea allen, Francisca Porchas Coronado, and Brandon Wrencher. The panelists discussed the importance of checking in with each other among other things. We are in a long season of feeling untethered and we must intentionally reach out to each other and choose to remain connected when we could so easily drift apart.
Regular check-ins and times of reflection with each other, Brandon went on to say, helps with the "foggy-ness" of pandemic time. Francisca chimed in later with an observation of how our nervous systems both on the individual level and the collective level are working overtime or "doing the most" as she put it. She then said that our connections help us to remember or literally re-member--as in our connections with each other put us back together.
So I was wondering, what have you been doing to build connections through this pandemic? And how has that helped you feel your way through the fog of this moment?
I'll answer here for me, and you all can copy and paste the questions and then answer in the comments and we'll have space for helping each other "re-member."
I'm part of a fabulous writing group and have several standing appointments for both writing and connection with friends and colleagues, as well as a new appointment with a spiritual director to go through the Ignatian Spiritual Exercises. All of these standing appointments add shape to my week and usually help keep me from feeling lost in a sea of sameness. The structure makes shapes emerge from the fog and while it's "not the same" as in person gatherings, some of it would have to be virtual anyway by virtue of the fact that the people participating are so spread out.
Your turn!
---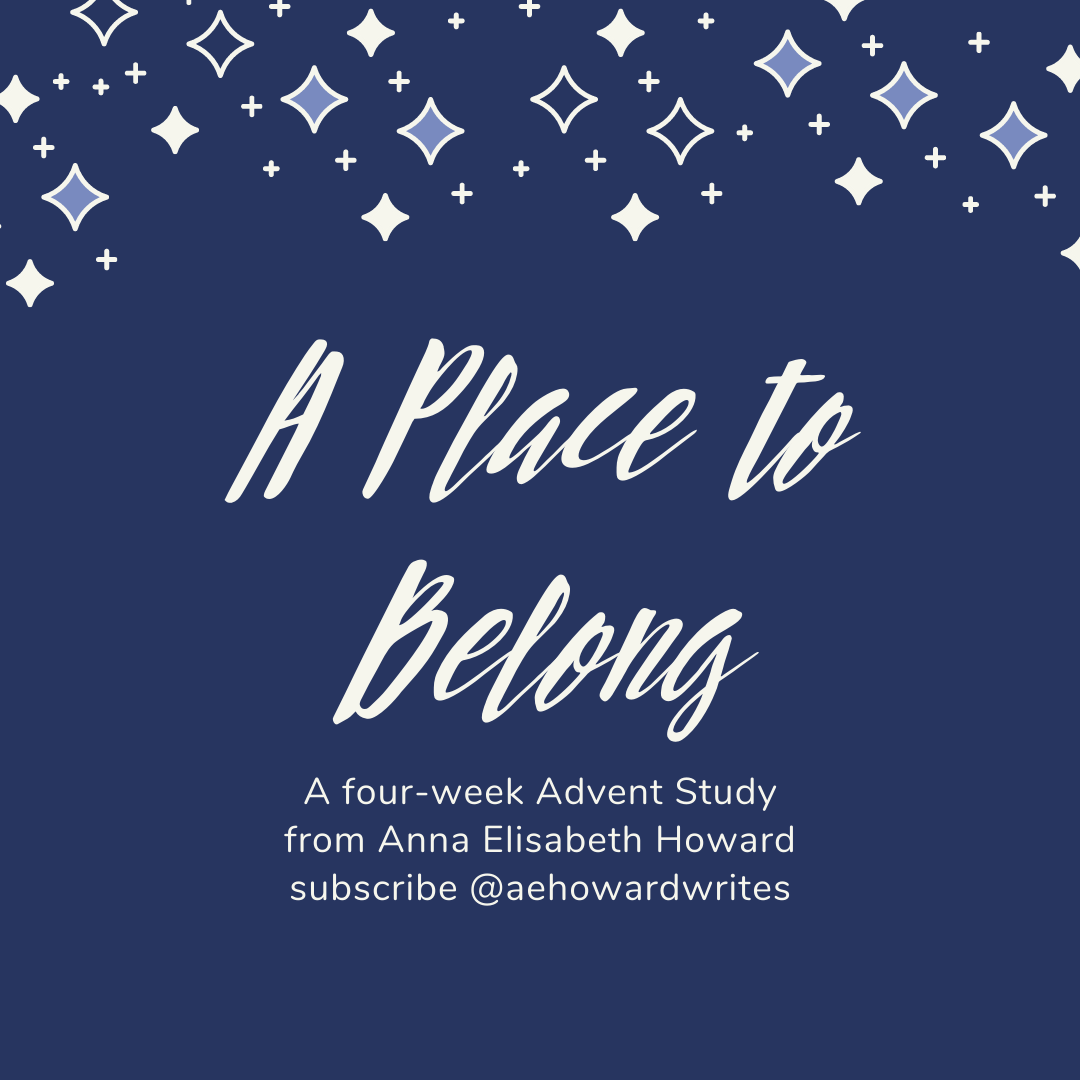 In a time of great upheaval, we often hear the sentiment of longing for things to "go back to normal." But if we look around at our world, "normal" was never really good enough for most people. Injustice, oppression, scarcity mentalities, and hatred abound in our world. Our current political and societal realities leave our heads spinning and our bodies exhausted. We want a place to belong: for us, our families, and our neighbors both near and far. We are longing for justice and equity we have never known. The restoration we crave lies not behind us, but before us. Come with me on a four-week Advent journey (Nov 29, Dec 6, Dec 13, & Dec 20) where we will look through Scripture and our current realities, and together imagine a place where we all belong.
This will be for subscribers only, however, the first 50 new subscribers will receive a FREE lifetime subscription to be included in all future content :-) just select "free" and you will be automatically upgraded within 24 hours. Or, if you signed up for the free version and don't already have a subscription, invite a friend you will also get a free lifetime subscription, just message me and tell me which friend subscribed.
---
Connect
Social media: Facebook | Twitter | Instagram
Read recent articles: Red Letter Christians | Earth & Altar | Medium
Join the community: